5 Ways You Can Demand Justice for Breonna Taylor in Under 5 Minutes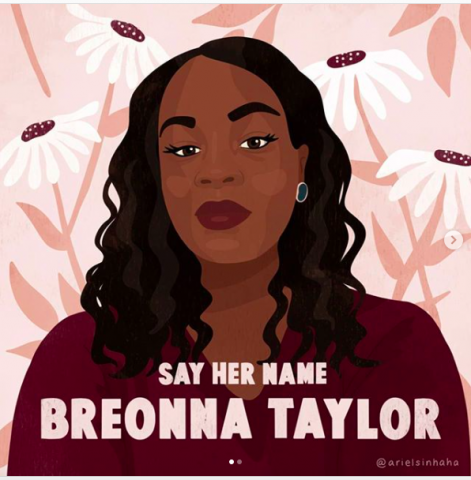 *On the night of March 13th, the Louisville Metro Police executed a warrant, looking for drugs they never found, reportedly trafficked by a person who did not live with Breonna or in her complex-and whom they already had in custody.  It's been nearly 5 months since Breonna was shot and killed in her home. The police sprayed her home with 20 rounds, shooting Breonna 8 times and killing her in her bed. Breonna Taylor was an award-winning EMT and first responder in Louisville, KY, who loved helping her patients and her community. "She was an essential worker. She had to go to work," her mother, Tamika Palmer said of her dedication to standing on the frontlines of this pandemic. "She didn't have a problem with that."
1. Send an Email to the Kentucky Attorney General
Send an email directly to the Kentucky Attorney General, the Mayor and the Governor. The link below will open a fully scripted email in your mail app, already addressed. Fill out the fields for your name and location and send! Easy peasy. Let's make sure they're hearing about Breonna Taylor no matter where they look.
2. Sign the official petition
Sign the official petition demanding the officers who unlawfully shot Taylor in her home be charged and arrested.
3. Post on Social Media
POST about Breonna, using the hashtags #BreonnaTaylor and #JusticeForBre. Her needs the national attention in order to force local systems to respond. Share her story, images of her smiling face, and tag the responsible parties. On Twitter, use @LMPD, @LouisvilleMayor, and @GovAndyBeshear. On Instagram, use @LMPD.ky, @MayorGregFischer, and @GovAndyBeshear. We can not stop until she receives a response!
Here's one you can repost:
4. Donate to those getting in Good Trouble and to Breonna's Family
Donate to the Louisville Community Bail Fund in order to help provide bail assistance for those who are unjustly arrested as they take to the streets to protest Breonna's murder. Consider making this donation recurring.
Donate directly to Breonna's family using the Gofundme link below. Any little bit helps even if you don't have much to give. They've long exceeded their goal, but every cent helps. Litigation is not cheap!
5. Add this link to your social media bio 
Add the link to this post to your social media page so others can take action too! https://bit.ly/3geP5OJ
Bonus: Make some phone calls
Now this will take you over 5 minutes, but this action is the MOST EFFECTIVE! Head to JusticeForBreonna.org to see a list of more actions you can take. The website also lists demands for the city of Louisville, from dropping charges against Taylor's boyfriend to eliminating no-knock warrants.
*Source: JusticeforBreonna.org